Testimonials
Tom P, Still going strong 1 year later
Hey Dan, hope you are doing well.
Looking through my picture folders on my computer just now made me realize it was just over a year ago that I completed my ST-120 and PAT-4 UpdateMyDynaco total overhauls, and both are still working perfectly! Besides playing music, both units are also used for TV and Video sound, so they are in use for at least a couple of hours every day, with no problems to report. The tremendous improvement heard in both units continues to impress, and motivated a return to sitting down for a serious listen to a complete album almost daily.
ST-120

PSUG power supply
3,900 mfd C-11 upgrade
Two Akitika amplifier modules, with blue LED mod
20,000 uF C-12 upgrade
Blue power switch light
Replacement input jacks

PAT-4

Line stage components (P4LSRC)
Power supply (PAT4PWR)
Distortion reducer (DRD4)
PAT-4X toroidal transformer (added later)
Blue power switch light (BLUE)
5 line-level input mod
(I also replaced the phono stage components, but haven't played a record on it yet)
My SCA-80Q ground-up rebuild with your line stage power supply capacitor board and blue switch light installed is also performing flawlessly in my bedroom system.
Although it contains none of your circuits, my SE-10 equalizer rebuild also turned out very well, and the buttery-smooth new sliders have prompted much tinkering...
Take care, Dan, and thanks again for all your great products!
-Tom
Fred S's Complete Stereo 120 Upgrade
Hi Dan,
It is finished. It is awesome!
Results: Voltage came in at 71.9, my meter may read a tiny bit low. I reused the wire for the coil around the capacitors. The speaker terminals came from some gold plated, lab grade, terminals I had on hand. Also, I used 2% silver solder in the amplifier PCBs. I followed the assembly instructions. That is a change for me because I usually charge ahead until there is a problem and then read the instructions. There is a faint "bong" and soft click in the speakers when it is turned on, other than that this amplifier is absolutely silent. The blue LEDs add just the right amount of "bling". Now it can sit along side my restored Marantz 2325 receiver.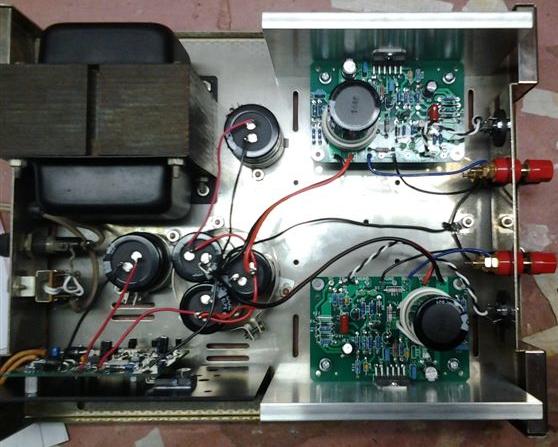 Comparison: The Dynaco project was faster and easier than the Marantz. The Marantz project (an "irebuildmarantz kit) was replacement of components which meant careful removal of old parts and then soldering in the new. A slow process, but rewarding in the end. Working with your kits was fast and easy. Right now the Marantz is feeding either a pair of Klipsch Heresys or a pair of 2-way speakers I built many years ago. I plan on connecting a pair of Dynaco A25s and maybe make a direct comparison. Then again, maybe not. They both sound wonderful. An all Dynaco system would be cool!
When I have time I will start on my PAT4. Thanks for great circuitry and excellent kits.
Fred S.
Tom P's 120 and PAT-4 Upgrades
Hello Dan,
My Stereo 120 and PAT-4 projects are finished and running, and I am very, very pleased with the results! The clarity and detail are truly impressive, particularly in acoustic and vocal passages, which sound very much like the actual instruments and voices are in the room.
I finished the PAT-4 over a month ago, installing your PAT-4 power supply, blue light kit, distortion reducer, and line stage component kits, and have been enjoying it while working on the St-120. The difference in clarity and detail were immediately apparent, with a strong sense of background "quietness". I also replaced all the phono stage components with low noise resistors and Nichicon Muse caps, even though my turntable has been idle for years.
The just-finished Stereo 120 provided another very noticeable sonic improvement, with a sonic quality I would describe as "effortless". It was a complete rebuild down to the bare chassis, with Akitika GT-101 amp modules, including the new blue LED R9 mod, a PSUG power supply board with 2 component values (approved by you) tweaked to match the Akitika max current draw, a new 3,900 mfd C9, new 2x10,000 = 20,000 mfd C12, a blue light kit, cleaned and repainted transformer, and augmented heat sinks. I am working on adding a pair of very small and extremely quiet fans inside the cover, above the amp modules near the heat sinks. I want the fans because I am running four eight-ohm speakers through a Dynaco/Panor QD-1 Series II Quadaptor (I also have an original QD-1, but the Panor has better connectors), with Dynaco A-40XL's in front, and Dynaco A-10's in back. The Quadaptor manual says this will present the amplifier with a load of "between 4 and 8 ohms".
My first listen was Bob Dylan's great "Love And Theft" album, played at just a bit less than the loudest volume I would ever want to use. The cover was still off, and I got up to check the heat sink temperature after every other song. By about 30 minutes in, I would describe all 3 heatsinks as almost hot to the touch, but not hot enough to make you pull your finger away. They stayed at about the same temperature for the remaining 30 minutes of the album.
For the internal wiring, I tried to achieve a clean visual layout, with power and audio lines well separated from each other. I used shielded input cables, and the original Dynaco 16 gauge inductor wire for the inductors and positive output wires. I found a good trick for winding the inductors so that they will want to stay in place once installed. Just wind them around something with a slightly smaller diameter, like a prescription pill bottle, then twist them open slightly to slide them over the capacitors. Wind about an extra half-turn or so to allow for expansion, and of course leave a bit extra at the ends to make the solder connections.
With the exception of my Lafayette 25-watt starter system from 1969, all of my core audio units have been Dynaco kits, and your kits and instructions compare very favorably with theirs. It was also quite rewarding to undertake a kit project again, and like the original Dynaco kits, the finished product has higher performance at lower cost than any assembled products on the market !
I've always tweaked things a little bit, and in both the PAT-4 and St-120, all small electrolytics were replaced with Nichicon Muse series caps of identical value. The replacement C6 on the amp modules was so large that it would have rested against the heat sink, so I left it's leads a little long, angled it away from the heat sink, and supported it with a dab of hot melt underneath.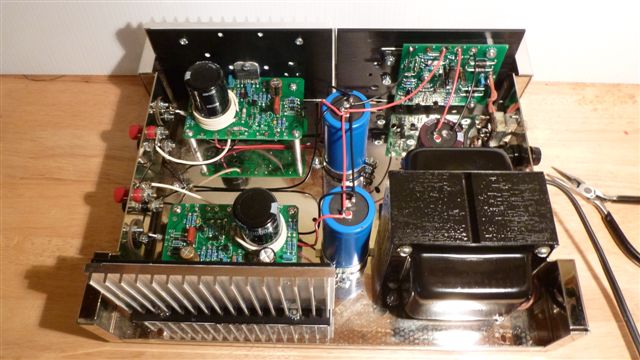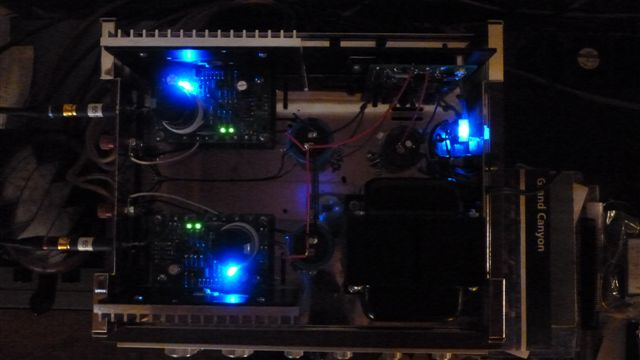 Thanks Dan, and if they ever come up with a 100+ watt chip, I hope you jump on it!
-Tom
Tom's Stereo 120 Upgrade
"Dan,
ST120 upgrade complete. No issues. Assembly manuals very accurate and very helpful. PS tested at exactly 72 volts (on my old Heathkit VTVM). The amps tested fine.
For me the improvement was dramatic. Although the amp was functioning before the upgrade, there was a lot going on that needed attention. Particularly a fluttering sound in the background and only fair high frequency response.
Result of the upgrade: No background noise; dramatically improved highs and really solid clear bass. I really think the amp is now much better than the speakers. Still on the lookout for a pair of A25's!
Test:
Pink Floyd 'The Wall' new vinyl
Bob James 'Touchdown' vintage vinyl
Equipment:
Audio-technica AT316EP cartridge/Garrard changer
Dynaco PAT-4 (original) ST120 upgrade
Infinity Qb speakers (original)
Still some hum. Assuming PAT-4 upgrade will help with that!
Thanks once again for an excellent product and outstanding service! I will be ordering PAT-4 stuff soon.
Tom"
Updating of Dynaco PAT4 and Dynaco Stereo 120, as told by Graham from Leicestershire, England
"My hi-fi system is composed of a Dynaco PAT-4, Dynaco Stereo 120, Marantz CD player, Dual record player and a pair of AR 2ax speakers. I built the Dynaco amps from kits in 1968 and they have been in continuous use ever since.
Out of curiosity I googled 'Dynaco' and found Dan's 'updatemydynaco' website.. that set the ball rolling! I decided that this might be the opportunity to replace some of those 46 year old components. Dan guided me through the ordering process and I ordered the kits and updated both amps.
The PAT-4 now has the phono upgrade kit, the distortion reduction kit and regulated power supply, (plus new line stage mods). The Stereo 120 has the full works (total rebuild) including Dan's AMP 101 modules and super heat sinks.
I did have a background hiss in one channel which had been there before I did the updates and Dan diagnosed it as probably a defective resistor in the PAT-4. After changing the resistor I had more pops and bangs from the same channel. After a number of 'question and answer' e-mails and after various tests Dan not only diagnosed the problem but also put together a kit of parts to fix it. (He may produce the parts as a line stage component replacement kit P4LSRC).
My system is now sounding better than ever, and I am hearing detail that I haven't heard before. well worth the update effort. Dan's Dynaco updates, detailed instruction manuals, hints, tips and general advice are first class. It is reassuring to know that a dedicated audio/electronics expert is only an e-mail away.
I would recommend anyone who has Dynaco amps to take a look at Dan's website, contact Dan and have the satisfaction of updating their amps, and be rewarded with truly exceptional sound."
Thanks again,
Graham,
Leicestershire, England
Two Stereo 120 re-builds in Belgium. Marc comments thusly:
The longer I listen to both my amps, I can only have the highest admiration for your design. The sound of this amplifier exceeds its price range by an extremely large margin. I would describe the sound as "neutral/warm". No trace of hashness anywhere. Very musical and addicting. Sound makes one think of tubes.....
I've mentioned to you that I have other amplifiers, but I could easily live with only this one and be perfectly happy. (Although I might just hold on to my other Dynaco, a VTA-ST-120 tube amp by Bob Latino.) The only thing that did not really work out was the bi-amping on my 91 dbW/m Tannoy Glenair 10's. This is a speaker issue however, the cross-over frequency being 2,1 kHz..... above which there is not much energy on most recordings. As a result, the extra amp did not really matter.
I'll have to find another way to put it at work.. :-))
I had the time of my life building these and could'nt be more pleased with the result ! THANKS.
All the best,
Marc
Belgium
Pictures from Marc's First Amp Conversion
...
Pictures from Marc's Second Amp Conversion
...
About PAT4 Upgrades, Nick says:
Not long ago I ordered as a package from Updatemydynaco (Dan) the PAT-4 distortion kit, the tone control bypass switch and the power supply.
As a start my PAT-4 had been completely re-capped and sounded pretty good. I was also one of those folks who did the "lots of microfarad" upgrades to the old power supply cap yet the prospect of the regulated design was just too hard to resist. For anyone with basic soldering and wiring skills, these three updgrades should be easy and it took me only a couple of hours from start to finish. The instructions are excellent and clear, and to boot Dan included two C16 caps in my package. I also followed the instructions and dropped the gain by about 7dB (3.7kOhm resistors). All assembled and buttoned up, I looked at the output on an oscilloscope and already the improvement was obvious in the reduced noise "fuzz" at the output.
But what was really a treat was the sound: Listening through a van alstine built Super Fet Dynaco 150 I got off e-bay and a set of EPI speakers, two things were obvious immediately. First, the reduced noise resulted in music that seemed to be set against a quiet, "black" background and second it was far more detailed than before. Small nuances like the rub of fingers on guitar strings, voices, or small taps on cymbals were far more vivid. The sound is very pleasing indeed. Without question this is one of the best investments that you can make into your PAT-4!
Oh, and Dan is also a great communicator - knowledgeable, friendly and helpful.

Nick
About the Full Monte Stereo 120 Upgrade, Dan from Kansas City writes:
I recently came across an ST 120 and wanted to give it a tune-up as a couple transistors on the right channel did not look stock and 3 of the output transistors as well. I am a believer in refreshing old capacitors and resistors so I did some poking around. That is where I met Dan from Updatemydynaco. He asked me what my goal was with the amp and even helped me figure out whether the amp was in immediate need of attention. It turns out all its vital signs were normal and the amp was in running operation as it stood. So I listened to the amp for a couple days to get an idea of how it sounded while my order was filled and sent. I would have been happy to listen to the amp longer but everything arrived in THREE days from my order date. Unbelievably quick shipping mated with very patient and educational telephone discussions already had this project off to a good start. Basically I ordered the whole nine yards.... Amplifier Modules, Updated Power Supply Kit, Power Supply Capacitors, and The Dynamite Capacitor.
I started with the Amplifier Modules. They were a breeze, the instructions were bulletproof and the components looked fantastic. I simply followed the directions and installed the modules. It was that easy. The first sonic improvement I noticed was that the amp lost some of its haziness. It was easier to imagine space between instruments and more of the source material was available to the speakers. I was excited about this, but I was still hopeful for even better performance.
Next I stuffed the Power Supply Kit board, again, the board was hassle free. It was very to easy install as well. The fit and finish of the Amp Modules and the Power Supply are top shelf. Once I had the Power Supply installed, I became instantly aware of how much "garbage" the original board had been feeding the amp modules. Now everything was incredibly clear. Detail was present in everything from fast attacks on acoustic instruments to rosin drenched Cello. There is a cry in The Gunners Dream that could finally take proper affect. The amp was now congestion free. Somehow, I still had an incredibly small sonic desire that was not fulfilled.
In comes the Power Supply capacitors and The Dynamite Capacitor. I opted to chance C9 and C11 to the offered 3900uf caps and replace C12 as well. For me, this was the most fulfilling part of the modifying process. All mods done previously were great steps in bringing this amplifier up to par with great amps of today. But bringing in the weight of the massively increased capacitance in the power supply was precisely what I needed. All of the clarity, all of the tonality, the quickness and detail were now backed by an undeniable increase in bottom end. Talking Drums could actually talk. I finally found out why people would comment on the capabilities of the KLH Six. All of my AR gear had enough behind them to show their true potential. The amp had come together now- brilliant clarity and substance that could make all of my speakers play louder than I needed.
I do not know what my ST 120 sounded like back when it was born, 1965. But I cannot think it sounded better than it sounds right now. Better capacitors, much better resistors, great diodes, and those transistors... Add the security of Mosfet circuitry to the mix and you can't go wrong. I certainly do not have the end all, be all of amplification- but with my new ST 120, I have more than I need. Well recorded offerings are so indulging that I end up listing too late into the night. I did not expect this level of musicality from this solid state amplifier. All things considered, I could not be happier.
Thank you Dan, Thank you for your unbelievably great products,
I am a believer
Daniel from Kansas city

For the knowing, Up-stream is a dynaco Pas-3(updated), and "The Turntable" by Acoustic Research/Teledyne. If needed, Sony DVP S9000es for digital playback.
About the Sound
Rob from Oregon:
"...the next track utilized is from Genius Loves Company (Concord CCD-2248-2). Fever (Track 5), with Natalie Cole, was recorded just prior to the passing of Ray Charles. There is nothing particularly smooth about Ray's voice at this point in his life, and the track provides a wonderful counterpoint to the ethereal quality of Ms. Cole. Think of is as sandpaper vs. butter. The updatemydynaco mod effortlessly captures the essence of this contrast of vocal age, style and timbre...In the final analysis- any piece of equipment should at best never call attention to itself, but in an unobtrusive way draw you into the music. Does the updated ST-120 accomplish such a rare feat? In a word, yes..."
Mark says:
"Your amp boards sound great.
I have ordered some other parts a little while ago.
Looking forward to replacing the PS sections.
I have a bunch of 120's I got from my Dad (he worked at dynaco).
These never were very good sounding.
Your updates made my day.
They sound really good.
Thanks.
BTW:
nice job"

Dan from Vancouver:
"Happily my units are working well and I remain well pleased with these. Absolutely a 'worth doing' upgrade.. thank you. Surprised that your products aren't of large common knowledge... they should be, as they are both good and affordable. A rare combination these days."
A pro's comments about the Stereo 120 and PAT-4 Upgrades
"I just wanted to let you know I did your kit today for the 120. I have rebuilt several hundred 120's over the last 15 years. I usually have 4 or 5 of them setting here awaiting a break in the action of my tube audio restoration business. I have a few really ugly chassis and transformers from some parts units and sent them out to get powder coated.
When they got back, I remembered that I had bought a pair of your kits to try. I have built many 3886 and 3875 chip amps and while they sound a lot better than they should, I haven't been that impressed. I built your boards today and installed them in the new chassis with an Audio by Van Alstine power supply board mod. (commercial interruption by Dan - I think the PSUG Kit would make it sound even better!)
Been listening to it for a couple of hours, heat sinks are just warm, and it sounds very good! I can certainly recommend your kit to anyone who doesn't want to try to fix the original Dyna boards. Most repairs done on those boards don't last long, because most people don't really fix them, they just replace a blown transistor and fire it back up. They work for a while, then blow same one......
I also recently put some of the DRD4 PAT-4 Distortion Reducer Kits I got from you for the PAT 4. I also mod PAT-4's, and mine sound substantially better than a stock one ever did, but your kit makes a huge difference, even after my film cap rebuild.
Thanks and keep up the great stuff..."
Bruce Brown
Vintage Tube Audio
About Building the Kit
Chuck from New York:
"...I put both of the new boards together yesterday, and enjoyed it very much - the boards are really nicely done, and stuffing them is quite simple the way it's laid out. Hard to make a mistake..."
Rick, who has updated two Stereo 120's, says:
"You have a very nice product. The assembly instructions are excellent. Building the kit was easy. Take your time. Follow the instructions. Read them again if you don't understand the first time. The information one needs is there. Your timely answers to my emails were very helpful. The finished amplifier is better than the original. It was a fun project."
Bill from Florida:
"...What an easy kit to put together. Your manual is perfect! I have done a ton of kits in my life and this one was the easiest I have done in awhile. I may end up getting the power supply retrofit in the future, but, so far, everything is running fine and cool. No hums, hissing, buzzing.....nothing but music!!
Thanks again for your help and advice.
Bill"
About the Overall Experience
"It started when I discovered that one channel of my Dynaco audio system was inoperative. Seeking a solution, I came upon Dan's web site via a Google search of "dynaco". After disassembling the stereo 120 amplifier, and many emails to and from Dan, I (we) discovered that several components in the power supply had failed, resulting in 96 vdc frying one of the audio boards. Dan's super heat sink, updated board seemed the ideal solution for me, a diy-er and hobbyist, especially since I had assembled the amplifier, PAT~4 pre-amp and FM-3 tuner from kits back in 1968. The materials included in Dan's ki t are first class; the board is of excellent quality and design, with plated-through holes for components, and the silk screen circuit and component diagram is sharp and clear. With Dan's excellent instruction manual guiding every step, it's very difficult for ANYONE to make a mistake. The cost at $109.00, including shipping, for the super heat sink version is more than reasonable - at $89.00 for the non-super heat sink kit, it's a steal, especially compared to other rebuild offerings on EBay. Finally, the quality of the sound coming from my "new" audio system is superb- I think it's better than the original."
Chuck Golden
New York

Phil reports:
"...Thank you for making this kit available. I have already built the kits and installed them... I love this old amp again!"
Feedback from Ebay
Im VERY impressed. It was easy to build and sounds wonderful. Fast shipping!!!!
Nice recieved quickly
very reasonable price
Extremely enjoyable transaction, a credit to EBay. A++++++++++++++++++++++++++++
Kit as decribed (excellent quality!) and shipped fast. Perfect!
Very helpful and clear feedback, prompt shipping and follow-up.
About the Music
Chuck reports:
"I took the new "Dynaco-Akitika Stereo 120" for a "road test" yesterday - played Saint-Saens Organ Symphony (CD) at about max listening volume for about 40 minutes - the house shook, wall hangings were vibrating, but the amp didn't even work hard. It got a bit warm around the heat sinks, but not so warm that I couldn't keep my fingers on it. Amazing......just thought you'd like to know this. Bravo!"
Paul, on the DRD-4 Distortion Reducer for the PAT4:
WOW!!! WOW!!! WOW!!! That's all I can say about the Distortion Reducing Upgrade for my PAT-4. I also replaced all of the electrolytics over the past few weeks. But the DRD4 was the top. I finally got it up and running this Sat., July 14, 2012. The first record I played was George Benson and I can't stop. Everything sounds so perfect.
I have been messing around with phono's and amplifiers since Christmas 1955 when Santa left a 1 tube childs' record player. It was soon apart and separated in sort of a component setup way before anyone could spell component. I haven't stopped since. I've had a few amps. but this is something I have never heard before. My turntable is a home brew made of an old 1956 Rek-o-kut motor and platter. I use various MM cartridges always looking for the magic cartridge that sounds the best. It's not the cartridge, it's all of the above. Preamp, amp, speakers, cartridge, turntable and so on. Now I have an old Audio Technica something or other. The tonearm is also homebrew parts of an old arm I bought on ebay for $4.00. So much for now. Gotta go and listen more.
Thanks;
Paul